Every year, Population Education hosts a two-day Leadership Institute to provide further training for our new facilitators. During the event, participants receive thorough training on our workshops and resources, and meet others who are committed to Population Education.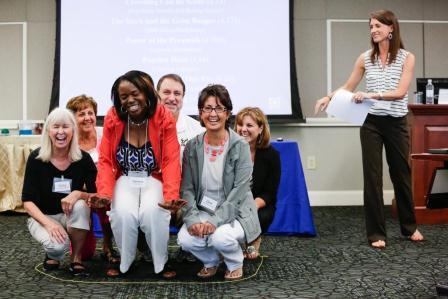 We alternate between having national Institutes, open to Trainers around the U.S., and regional Institutes, open only to educators from a specific geographic region. Rotating between regional and national Institutes ensures that our Network continues to improve and grow around the country.
Leadership Institutes are essentially free of charge; we cover the cost of accommodations as well as most meals and travel expenses. It is a fun-filled and educational weekend!
---
What Our Institute Attendees Say . . .
I'd like to thank you and all the Population Connection staff for a wonderful learning experience. I have attended many workshops and must admit this was by far the best in organization, materials and location. I can see why you have many followers.
Dr. Eugenia Johnson-Whitt, University of Akron
Leadership Institute 2010
Thank you so much for allowing me the opportunity to be part of such a fantastic group of educators- I have returned home energized and filled with excitement about all that Population Connection aims to do for our world! It was wonderful being able to "step outside" of my own small community/region and network with others who are dedicated to education.
Michelle Bailey, Elementary teacher, Chattanooga, TN
Leadership Institute 2011
This is a first class organization run by wonderfully committed people.  I hope to remain associated with your group for a long time.
Jerry Zinner, Adjunct Professor of Education, University of North Carolina, Wilmington
Leadership Institute 2011